Academy of Combat Fitness, Rehab & Spirituality
The only fully dedicated Martial Arts & Combat Fitness academy in India with 60 International Certificate courses for adult working men & women with largest Blackbelt fraternity in India (2500 BBs) Scientific Training is conducted by Ex Military Instructors, Martial Artists, Doctors, Physiotherapists & Dieticians.
Click Here for Prospectus and Admission Details to the Academy of Combat Fitness OR Just Call Sasmira on +91 98204 96752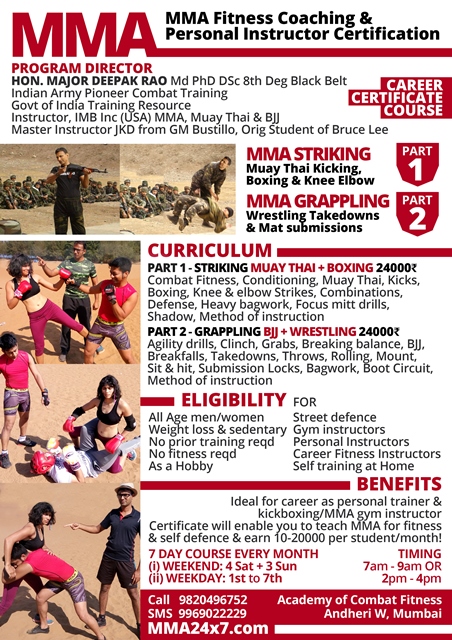 Bruce Lee
"If your opponent is at a distance, kick him in the groin. If he gets close, poke him in the eyes, bring up your knee. There's only one basic principle of self-defense: you must apply the most effective weapon, as soon as possible, to the most vulnerable target."

ACADEMY OF COMBAT FITNESS is the first institution in India totally dedicated to teaching COMBAT to the Working Adult Man and Women. At ACF we run 60 INTERNATIONALLY recognized CERTIFICATE Programs of 3-12 months duration with Flexible Timings & Weekend options to suit every AGE, BODY TYPE, PERSONALITY & NEED. Most of our programs deal with newer, more modern and exotic martial arts not easily available in most parts of the world. We are the ONLY Academy in India to teach Combat scientifically with a standardized international CURRICULUM, most Modern imported EQUIPMENT & personal ONE On ONE Attention tailor making the course to suit each and every Individual.
We are here to help you accomplish whatever it is you set out to do. Whether it be getting in great shape, learning self defense, building confidence, relieving stress, or getting into the best shape of your life, we have it all!
Martial Arts is one of the most powerful tools in creating positive change. Through the training you'll not only condition your body but your mind as well. Join one of the fastest growing workouts in the nation! You will kill two birds with one stone by getting the ultimate workout combined with the ultimate in self-defense. Work out with a purpose! Training in the martial arts is anything but boring. It's a high energy, fat burning, stress reducing, supercharged workout! You will be in much better shape after just a few weeks of our course! Your confidence will sky rocket! It is never too late to start learning the martial arts. It is perfect for men and women in their 30′s, 40′s, 50′s and up! Our training environment is friendly and motivating so you can learn at your own pace. Our programs are very beginner friendly, so don't worry about having any experience or being in decent shape. It is our job to get you to reach these goals.